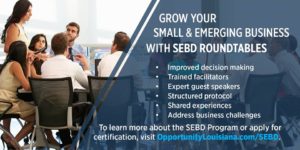 The Microbusiness Enterprise Corporation of Ascension (MBECA) is happy to announce it will be launching a new program; the Small & Emerging Business Development Program SEBD Roundtables. The program is currently accepting applications (click here) for a limited number of participants and will begin in August and will run one time per month for ten workshops. Since only one business type is allowed in each roundtable, it is essential to apply early. Classes will be held at the MBECA LEAP Center located at Lamar Dixon Expo Center (in the gym behind the silos). All program participants must be certified through the Louisiana Economic Development Small and Emerging Business Development Program (SEBD) – get certified by clicking here.
Roundtables provide business owners with the opportunity to improve leadership skills, sharpen decision-making abilities and build lasting relationships through peer-to-peer learning. SEBD Roundtables bring together 15-18 small and emerging business owners from SEBD certified businesses for 10 monthly roundtable meetings over the course of a year to share challenges and learn from the experiences of their peers. See the flyer here…SEBD Roundtables.
SEBD ROUNDTABLES PROVIDE ACCESS TO:
• Trained facilitators who keep discussions on track and relevant for all participants
• Expert guest speakers who provide information on key business topics
• Structured protocol that sheds new light on both problems and opportunities
• Shared experiences rather than advice
• Safe environment in which to process sensitive business challenges with peers
• Ability to get just-in-time answers to pressing issues
Participants in this roundtable system report that the experience helps them reach better decisions and action plans, affirm what they're doing right and identify what they need to improve. They also develop trusted relationships to share both business and personal issues.
To ensure the best fit for selected participants, a number of factors are considered, including experience level, business size, non-competitiveness and existing business relationships, but all participants must be certified in the SEBD Program. Seating is limited and tables are anticipated to start in early summer.
SMALL AND EMERGING BUSINESS DEVELOPMENT PROGRAM
LED's Small and Emerging Business Development (SEBD) Program provides the managerial and technical assistance training needed to grow and sustain a small business.
• Provides for developmental assistance, including entrepreneurial training, marketing, computer skills, accounting, business planning, and legal and industry-specific assistance.
• Consideration for bidding on select products or services purchased by state agencies.
• SEBD Intermediaries provide a free needs assessment and assistance with accessing other program benefits.
Louisiana Economic Development is licensed by the Edward Lowe Foundation to use the PeerSpectives™ Roundtable System for SEBD Roundtables.
To learn more about the SEBD Program, visit OpportunityLouisiana.com/SEBD. To apply, complete the attached pre-screening application and email mbeca@mbeca.org. For further questions involving the program, call 225.445.1383.