Programs are available for your small business at any stage from conception to acceleration.
MBECA Programs
Business Start-up Workshop
The business start-up workshop is a thirteen – fifteen week program offering start-up business owners opportunities to participate in an intense business planning and creation workshop. Concepts include entrepreneurship competencies analysis, personal financial management, credit counseling, business formation, market planning, personnel planning, operations management, and financial planning, and access to lending. Participants have a business plan upon completion of the workshop.
Youth Entrepreneurship
Through the collaborative efforts of Louisiana Economic Development Small Business Services and selected school districts, students learn how to run and start a microbusiness. Trainings include personal effectiveness, financial literacy and business planning. These multi-class training workshops not only provide participants with the skills necessary to start and run a business, it also develops managerial competencies and work-related skills.
The Louisiana Entrepreneur Accelerator Program (LEAP)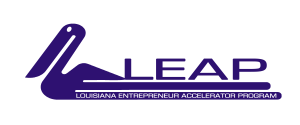 LEAP is time-specific, mentorship-driven program designed to provide entrepreneurs with clinical skills to help them make rapid progress on small business growth by combining research, coaching, on-site mentoring, and strategic effectiveness. The program consists of a nine month program where a strategic development plan is created in a mastermind laboratory environment and then implemented under the guidance of expert coaches in the field. The plan outcomes will be designed to reach the specific goals of the entrepreneur managed by expert facilitators and coaches and implemented over a reasonable amount of time.
Additional Services
Marketing Planning
Technical Assistance
Specialized Training
Accelerator Programs
Leadership Development
Workforce Enhancement
Investor Relations
Credit Coaching
Microlending / Lending Referral
Provides loan guarantees to banks and other small business lenders in association with the SSBCI ranging from $5,000 to $1.5 million.
Provides customized core business strategies, market research, qualified sales leads and improved internet and technology tailored to your growing needs.
Provides for developmental assistance, including entrepreneurial training, marketing, computer skills, accounting, legal and industry-specific assistance.
Certification program offers greater access to purchasing and contracting opportunities at the state government level.
Helps veteran-owned and service-connected disabled veteran-owned small businesses gain greater access to purchasing and contracting opportunities at the state level.