The Microbusiness Enterprise Corporation of Ascension is hosting the Third Annual Ascension Small Business Power Week (Power Week 2017 Full Flyer). This year the event will take place the week of August 12-19 and will feature a number of resources and events to assist entrepreneurs and small businesses.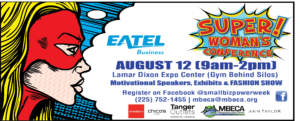 The event will kick off on August 12, 2017 with the MBECA's Annual Superwoman's Conference (Lamar Dixon Expo Center Gym behind the silos) from 9am-2pm. The event will feature motivational speakers, exhibits, demonstrations, local businesses, the Tanger Outlets Fashion show featuring Dress Barn, Chico's Outlet, and Ann Taylor, lunch, door prizes and much more. See the event flyer here Super Woman Conference Flyer. Vendor applications are now being accepted (2017 Superwomans Conference Vendor Form).
The week-long activity will continue with workshops featuring "The Power of Peer Learning" and access to resource exhibits where organizations from the around the region will demonstrate the services they offer to assist small business and entrepreneurs. Events will take place from 6pm-9pm and will be hosted on Monday, August 14 at the Sorrento Civic Center, Tuesday, August 15 at the Fire Training Facility, Thursday, August 17 at the Lemann Center in Donaldsonville, and on Saturday, August 19 at the Crystal Chateaux in Prairieville (9am-12noon).
The event will also feature the Ascension Hospitality Management Association's Power Lunch featuring guest speakers from Louisiana Economic Development, Ascension Economic Development Corporation, and Eatel Business. The event is $25 for members and $30 for non members and will be hosted at Kamal's Kafe in Gonzales. For more information visit www.ascensionhospitality.org.
Also taking place on Wednesday from 2pm-5pm at Lamar Dixon Expo Center's Trademart Building is the Ascension Business Expo Presented by St. Elizabeth. The event will feature business exhibitors from around the region as well as numerous demonstrations and service opportunities. For more information, to get register as a vendor, or get tickets, visit the Ascension Chamber of Commerce Business Expo presented by St. Elizabeth site.
For more information on the events, call 225.752.1455 or to register, go to the Ascension Small Business Power Week presented by Eatel Business Facebook site @smallbizpowerweek.